SELECT AN EVENT: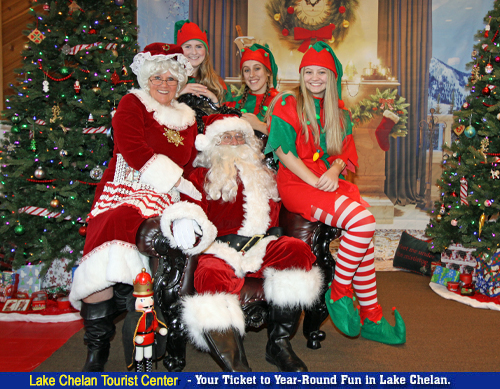 A Visit with SANTA™(2018):
2018 will be the 13th year for Lake Chelan Online Network's A Visit with SANTA
™
now produced by Lake Chelan Tourist Center in Lake Chelan, Washington, and is truly the Event of the Year for the Lake Chelan Valley.
During This Event there will be two days of Activities. On the First Day children will be able to Visit with Santa & Mrs Claus, Get their Photo taken by LakeChelanPhotos.com with Santa, and children will receive a spectacular Holiday Gift bag filled full of holiday treats to include a Christmas Plush Animal.
On the Second Day, along with Santa, we will be taking Christmas Family and Sponser Portraits too. We have found that for some reason, this time of the year seems to be the only time Everyone will get in the photo and smile. So head on down and get your portrait taken.
This is all made available by sponsorship from Lake Chelan Valley Businesses & Families.
Christmas Cookies along with Hot Apple Cider and Hot Chocolate will be on hand, provided by Safeway of Chelan.
NOTE: LOCATION THIS YEAR...


Located at
ROOTS COMMUNITY SCHOOL
2133 W Woodin Ave
CHELAN (Old Little Stone Church Building in Lakeside)

---
SPECIAL THANKS TO THE FOLLOWING in 2018:


A Special Thanks to ROOTS COMMUNITY SCHOOL for Hosting this years Event!!!
A warm thank you goes out to all of the Elves that help make this happen.
PLEASE take the time to thank our Sponsors - without them, this wonderful event would not happen.
---


CONTACT US IF YOU WOULD LIKE TO BE A 2018 SPONSOR



FREE EVENT - Open to Children of the Lake Chelan Valley & Their Families
(Kids from Lake Chelan will receive A Gift Bag)
(10 & Under While Supplies Last)

2018 EVENT DATE(S): **** DECEMBER 15TH & 16TH ****
EVENT TIMES: SATURDAY 10AM-2PM / SUNDAY 11AM-3PM

EVENT LOCATION:

Located at


ROOTS COMMUNITY SCHOOL 2133 W Woodin Ave CHELAN (Old Little Stone Church Building in Lakeside)
Note: Santa Photo Orders are taken up to 30 days past event.



CONTACT: STAFF
TEL: (509) 682-9150
EMAIL: Santa@LakeChelanSanta.com



---

SANTA THANKS OUR 2018 SPONSORS:
Note: Some Ads Below Click Through to Sponsors Website