SELECT AN EVENT: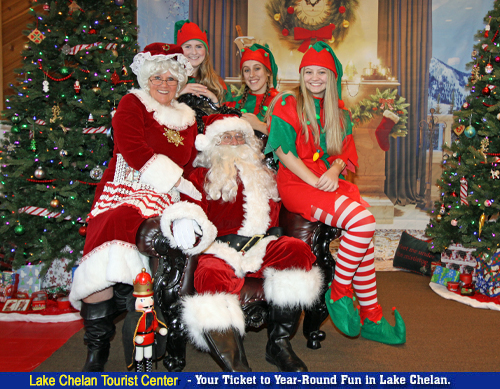 A Visit with SANTA™(2014):
2014 will be the 9th year for LakeChelanOnlineNews.com and LakeChelanEvent.com's A Visit with SANTA
™
in Lake Chelan, Washington, and is truly the Event of the Year for the Lake Chelan Valley.
During This Event there will be two days of Activities. On the First Day children will be able to Visit with Santa & Mrs Claus, Get their Photo taken by LakeChelanOnlineNews.com with Santa, see some of Santa's live Reindeer and children will receive a spectacular Holiday Gift bag filled full of holiday treats to include a Christmas Plush Animal.
On the Second Day, since Santa is racing off to his next location, we will be taking Christmas Family and Staff Portraits. We have found that for some reason, this time of the year seems to be the only time Everyone will get in the photo and smile. So head on down and get your portrait taken.
This is all made available by sponsorship from Lake Chelan Valley Businesses & Families
Fencing for our Events provided by Chapparal Fence of Manson.
Christmas Cookies along with Hot Apple Cider amd Hot Chocolate will be on hand, so mark your Calendar and start your new Christmas List because Santa will be waiting, provided by Safeway of Chelan and Walmart of Chelan.
Fresh Apple Cider and Doughnuts provided by Orondo Cider Works.
Our Beautiful Christmas Tree provided by Chelan Red Apple Market.
NOTE: OUR LOCATION THIS YEAR...

SANTA'S HOUSE
LAKE CHELAN METHODIST CHURCH, 206 N EMERSON ST, CHELAN
(IN THE BACK)
NEXT TO THE NEW LIBRARY
---
SPECIAL THANKS TO THE FOLLOWING:




Special thanks to John Walcker for proving Santa a place to stay at the Granview on the Lake.
A warm thank you goes out to all of the Elves that help make this happen.
PLEASE take the time to thank our Sponsors - without them, this wonderful event would not happen.
---


CONTACT US IF YOU WOULD LIKE TO BE A 2014 SPONSOR



FREE EVENT - Open to Residents of the Lake Chelan Valley
(Kids from Lake Chelan will receive A Gift Bag)
(10 & Under While Supplies Last)

2013 EVENT DATE(S): 13 & 14 DECEMBER 2014
EVENT TIMES: 10AM-2PM Saturday & 1pm-3pm Sunday

EVENT LOCATION:

SANTA'S HOUSE
Located at
LAKE CHELAN METHODIST CHURCH, 206 N EMERSON ST, CHELAN (IN THE BACK)
NEXT TO THE NEW LIBRARY



CONTACT: STAFF
TEL: (509) 682-9150
EMAIL: Santa@LakeChelanSanta.com



---

SANTA THANKS OUR 2013 SPONSORS:
Note: Some Ads Below Click Through to Sponsors Website